Government Assisted Packages
VitalCALL is accredited by the Ministry of Social Development as a emergency alarm provider. This means your monitored Emergency alarm may be funded.
Are you eligible for funding?
Funding options for emergency alarm services may be possible through your disability allowance.
In order to apply for a disability allowance the person who requires an emergency alarm must:
have a health condition or disability that's likely to last at least 6 months from when they were diagnosed.
have ongoing costs associated with the health condition or disability not covered by another agency.
be a senior living independently in their own home.
have a health practitioner also confirm that the person has a need for the alarm.
If you are not receiving a disability allowance, but meet the eligibility criteria you will need to apply by completing the Disability Application Form. As part of VitalCALL's free no obligation home demonstration our representative will advise you of the steps required to apply for funding through WINZ.
For more information visit the New Zealand Government's website or contact us.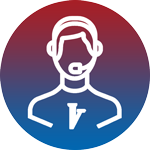 Need help? Give us a call!
We can help You Choose the Right